Posts for: March, 2016
By Joel E. Johnson, DMD, PA
March 27, 2016
Are bleeding gums something you should be concerned about? Dear Doctor magazine recently posed that question to Dr. Travis Stork, an emergency room physician and host of the syndicated TV show The Doctors. He answered with two questions of his own: "If you started bleeding from your eyeball, would you seek medical attention?" Needless to say, most everyone would. "So," he asked, "why is it that when we bleed all the time when we floss that we think it's no big deal?" As it turns out, that's an excellent question — and one that's often misunderstood.
First of all, let's clarify what we mean by "bleeding all the time." As many as 90 percent of people occasionally experience bleeding gums when they clean their teeth — particularly if they don't do it often, or are just starting a flossing routine. But if your gums bleed regularly when you brush or floss, it almost certainly means there's a problem. Many think bleeding gums is a sign they are brushing too hard; this is possible, but unlikely. It's much more probable that irritated and bleeding gums are a sign of periodontal (gum) disease.
How common is this malady? According to the U.S. Centers for Disease Control, nearly half of all  Americans over age 30 have mild, moderate or severe gum disease — and that number increases to 70.1 percent for those over 65! Periodontal disease can occur when a bacteria-rich biofilm in the mouth (also called plaque) is allowed to build up on tooth and gum surfaces. Plaque causes the gums to become inflamed, as the immune system responds to the bacteria. Eventually, this can cause gum tissue to pull away from the teeth, forming bacteria-filled "pockets" under the gum surface. If left untreated, it can lead to more serious infection, and even tooth loss.
What should you do if your gums bleed regularly when brushing or flossing? The first step is to come in for a thorough examination. In combination with a regular oral exam (and possibly x-rays or other diagnostic tests), a simple (and painless) instrument called a periodontal probe can be used to determine how far any periodontal disease may have progressed. Armed with this information, we can determine the most effective way to fight the battle against gum disease.
Above all, don't wait too long to come in for an exam! As Dr. Stork notes, bleeding gums are "a sign that things aren't quite right." Â If you would like more information about bleeding gums, please contact us or schedule an appointment. You can read more in the Dear Doctor magazine article "Bleeding Gums." You can read the entire interview with Dr. Travis Stork in Dear Doctor magazine.
By Joel E. Johnson, DMD, PA
March 12, 2016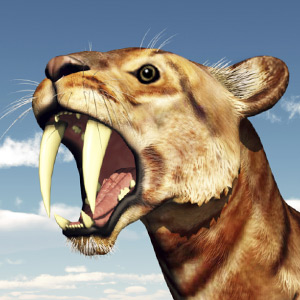 What do young saber tooth tigers, which have been extinct about 10,000 years, have in common with human kids today? At first glance, not a lot. Smilodon fatalis, the big cat of North America, reached adulthood at around age three and weighed up to 600 pounds. But these ice-age mammals are probably best known for their dagger-like canine teeth, which (as shown by many well-preserved skeletons) grew up to 7 inches long. And that's where the comparison between kids and kitties gets interesting.
The toothy felines had primary (baby) teeth and adult teeth, which developed in a similar way to human dentition. The primary teeth came in first, persisted during the young cat's development, and shared space in the mouth as the adult teeth were erupting (growing in) — with one big difference. According to a recent study reported in the academic journal PLOS ONE, those colossal canines grew at an astonishing rate: up to 6 millimeters per month! By comparison, human primary teeth emerge from the gums at around 0.7mm per month, while permanent teeth may grow up to 2mm per month.
It's understandable why those tiger teeth developed so rapidly: Life in the Ice Age was hard, and predators needed every advantage just to stay alive. But while human baby teeth take longer to develop (and to go away), they, too, are vitally important. For one thing, the primary teeth let kids bite, chew, speak (and smile) properly, until they are replaced by adult teeth — a process that isn't usually finished until a child reaches the age of 12-13. So those "baby" teeth allow kids to have good nutrition — and positive social interactions — for a significant part of childhood!
There's another important thing primary teeth do before they're gone: They help ensure that the succeeding teeth come in properly, by holding a space in the jaw that will later be filled by a permanent tooth. If baby teeth are lost prematurely, those spaces can close up, resulting in permanent teeth that emerge too close together, or in the wrong places. This condition, called malocclusion (bad bite), can usually be corrected by orthodontics. But it's better to avoid the inconvenience (and cost) of braces, if possible.
That's why it's so important to take care of your child's baby teeth. Even though they won't be around forever, they have a vital role to play right now. So be sure proper attention is paid to your child's oral hygiene: That means avoiding sugar, and remembering to brush and floss every day. And be sure to come in regularly for routine exams, cleanings, and needed care. It's the best way to keep those little teeth from "going extinct" too soon!
If you have questions or concerns about your child's baby teeth, please call our office to schedule a consultation. You can read more in the Dear Doctor magazine articles "Importance of Baby Teeth" and "Early Loss of Baby Teeth."